Hi, Leo Sensei dayo!
There is no more samurai in Japan nowadays. However, you can find Maiko in Kyoto if you go there. In this column, I will introduce Maiko to you. In this column, I will write in Japanese by paragraph too. Try and check your Japanese level.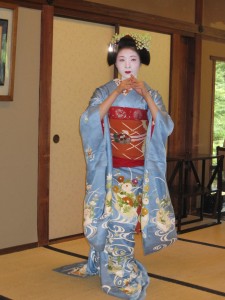 Who is Maiko? 
Maiko is a female who entertains guests with dance, sing, conversation and playing games. Their ages usually range from 15 to 20. Maiko is a trainee for geiko. Geiko has more skills and experiences to entertain guests.
舞妓(まいこ)ってどういう人?
まいこは、踊り(おどり)、歌(うた)、会話(かいわ)やゲームでお客(きゃく)をもてなす女性(じょせい)です。年齢(ねんれい)はたいてい15歳(さい)から20歳(さい)くらいまでです。舞妓(まいこ)は芸妓になるための訓練生(くんれんせい)です。芸妓(げいこ)はお客(きゃく)をもてなす技術(ぎじゅつ)や経験(けいけん)をもっています。
Origin of Maiko 
Origin of maiko came from waitresses who served tea and snacks to visitors at shrine in Kyoto about 300 years ago. Then they gradually started entertaing guests with dance and song.
舞妓(まいこ)の起源(きげん)
舞妓(まいこ)の起源(きげん)は約(やく)300年前(ねんまえ)に、京都(きょうと)で神社(じんじゃ)のお客(きゃく)にお茶(ちゃ)やお菓子(かし)を振(ふ)る舞(ま)ったウェイトレスまでさかのぼります。その後(ご)、次第(しだい)に踊(おど)りや歌(うた)で客(きゃく)をもてなすようになりました。
Appearance(hair style and clothes)
Their hair styles are very unique with their own hair, not wig and with seasonal kanzashi(traditonal hair pin with ornament). Their clothes are traditional kimono which differs according to their rank and the occasion.
外見(がいけん)(髪型(かみがた)や着物(きもの))
髪型(かみがた)はとても特徴的(とくちょうてき)で、かつらではなく自前(じまえ)の髪(かみ)が使(つか)われ、季節(きせつ)に合(あ)わせたかんざしが使(つか)われます。服(ふく)は伝統的(でんとうてきな)な着物(きもの)でランクや状況(じょうきょう)に応(おう)じて変(か)わります。
Maiko system
Maiko usually belongs to okiya, which is kind of entertainment production group, and lives there and gets training at the age of 15 or 16. After one-year training of manners, dance and song, they have to take a examination for dance. Once they pass this test, maiko can perform dance and song in fromt of guests with their seniors. After 5 years, maiko has to decide they will continue as geiko or quit. Okiya will support geiko until they can earn money independently without any backup. However, most of maiko will quit and then go to university or get marry nowadays.
舞妓(まいこ)のシステム
舞妓(まいこ)は通常(つうじょう)は15、16歳(さい)のときに、芸能(げいのう)プロダクションである、置屋(おきや)に所属(しょぞく)し、住込(すみこ)み修行(しゅぎょう)を受(う)けます。1年間(ねんかん)の作法(さほう)、踊(おど)りや歌(うた)の訓練(くんれん)のあと、踊(おど)りの試験(しけん)を受(う)けます。この試験(しけん)に合格(ごうかく)すると、舞妓(まいこ)は先輩(せんぱい)と一緒(いっしょ)にお客(きゃく)の前(まえ)で踊(おど)り歌(うた)うことができます。5年(ねん)たつと舞妓(まいこ)は芸妓(げいこ)として続(つづ)けるかやめるか決(き)めなければなりません。芸妓(げいこ)になると、置屋(おきや)は独立(どくりつ)しておかねを稼(かせ)げるまで芸妓(げいこ)をサポートします。しかし、最近(さいきん)では多(おお)くの舞妓(まいこ)は辞(や)めて大学(だいがく)に行(い)ったり、結婚(けっこん)したりすることが多(おお)いようです。
My experience
I have met maiko once. At that time I had lunch at Japanese restaurant. Then suddenly maiko came into restaurant and sat next to me(!) and started eating soba noodle. They were invited to event near that restaurant from Kyoto. I kept observing their talikng way and behaviors next to me and those seemed to be very modest and graceful to me. It's quite different from current Japanese style. Interestingly, many people gathered that restaurant to see maiko since meeting maiko is very rare even for Japanese. I also did not expect I could meet maiko next to me.
私(わたし)の実体験(じったいけん)
私(わたし)は一度(いちど)だけ地元(じもと)で舞妓(まいこ)に会(あ)ったことがあります。日本食(にほんしょく)レストランで食事(しょくじ)をしていたとき、急(きゅう)にレストランに舞妓(まいこ)が現(あらわ)れて、私(わたし)の隣(となり)に座(すわ)ってそばを食(た)べ始(はじ)めました。彼(かれ)らはイベントに招待(しょうたい)されていたのでした。隣(となり)でずっと観察(かんさつ)していたのですが、舞妓(まいこ)のしゃべり方(かた)や振(ふ)る舞(ま)いはとても奥(おく)ゆかしく優雅(ゆうが)なものでした。それは現代(げんだい)の日本人(にほんじん)のスタイルとは全(まった)く違(ちが)うものです。面白(おもしろ)かったのは、舞妓(まいこ)に会(あ)うことは大変(たいへん)まれなので、多(おお)くの人(ひと)が舞妓(まいこ)を見(み)るためにそのレストランに集(あつ)まってきたことでした。私(わたし)もまさか隣(となり)の席(せき)で舞妓(まいこ)に会(あ)えるとは思(おも)ってもいませんでした。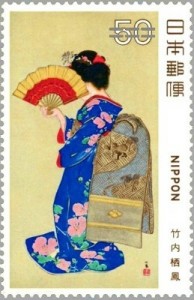 For tourist in Kyoto
When you travel in Kyoto, you can become maiko with kimono and make-up. My Indonesian friend became maiko and then other tourists thought she was real maiko and surrounded her to take photo and asked for some posese!
Be a good tourist with good manner!
Thank you for reading!