What is JLPT?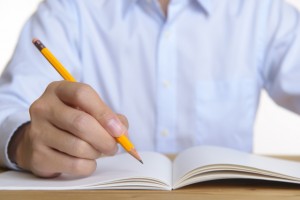 JLPT is short for Japanese Language Proficiency Test, 日本語能力試験 and recognized passport to show your Japanese language ability. You may take test in July and December in many cities all over the world. It costs about US$50. 
Here is official HP for JLPT.
https://www.jlpt.jp/e/index.html
Level is categorized in 5 levels depending on difficulty from N5 to N1.
N5 is easiest level and N1 is most difficult.
July 7th is test date this year.
Tomorrow!
If you take exam tomorrow, hope you can show what you have studied!
If you want to work in Japan, which level is necessary?
If you pass over N4 level, you may get work in Japan more easily. (though I cannot guarantee)
For example, N4 is must for working in kitchen at restaurant for foreigner coming to Japan for study. This is requirement for part time job. Person with over N3 level, they can work as waitress or waiter.
Some Japanese companies are said to hire non-Japanese with N1 or N2 level for employee as communication is usually in Japanese in Japanese companies. However, I know my friend with N3 but having work experience in Japanese companies in her country and she is working in Tokyo now. So I can say if you want to work in Japanese companies in Japan, at least you should have N3 or equivalent level. If you have work experience, some other ability plus N3 level, you may work in Japan.
At least, you can understand what Japanese say in workplace. That is minimum requirement.  
Just for target to study
Even if you study Japanese not for working in Japan, I strongly recommend taking JLPT test.
Why? Because it could be one of your motivation to keep studying and achievement for what you have studied.
As you already recognize that we human are weak and dull without any target or goal.
Without any target or goal, you just study when you are motivated but you stop studying for some reason (busy, no time, interest to other etc).
Model test for JLPT
In official HP, JLPT shows model test for each level here.
https://www.jlpt.jp/e/samples/forlearners.html
You can check what kind of question in JLPT for free if you are interested in.
Can you choose correct answer? If you cannot now, it's ok.
It's important to choose correct answer in future when you study for your target!
Speaking
JLPT test assesses your ability for reading, listening and writing but not for speaking.
If you study for JLPT, you can improve reading, listening and writing for Japanese but cannot improve speaking unfortunately.
For speaking, I recommend you should practice with native Japanese or non-Japanese who can speak Japanese. Also, they can correct your mistake and guide you for proper Japanese language.
If you really want to find native Japanese, I will be your tutor.
Please follow my page on Facebook and send message to me.
This is post about 50 points in grammar for N4 level.
This is post about 50 points in grammar for N5 level.  
How was this post?
If you like this or feel this is useful, please share on Facebook and retweet on Twitter!
If you wanna join Leo Sensei's group on Facebook, click Facebook mark on top or bottom and send friend request to me. You can get updated information and ask me freely about Japanese language and culture and so on.