(J & E) Cherry Blossom Viewing-花見(Hanami)
(Japanese bellow)
In Japan, Cherry blossom is about to be full bloom now.
My sister said now is fifty-percent bloom(五分咲き,gobuzaki) in Tokyo.
Japanese like cherry blossom and hold cherry blossom viewing under the trees this season.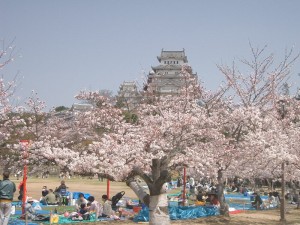 Cherry Blossom Viewing
During March and April, many Japanese go out to view the cherry blossom under the tree. The best timing is in full bloom!
We spread mats on the ground, bring foods and beverages and have parties with family, friends and coworkers in office.
The tree keeps blooming for one or two weeks only. It's very short and beautiful in full bloom; therefore, cherry blossoms are often used as an example of human fragile life.
What we do actually under trees are chatting, eating and drinking. Drunken viewer and scattered trashes after viewing are often reported in the news in this season. Keeping clean and good manner, viewers!
Origin and history
There are some hypotheses about origin of cherry blossom viewing.
Some says its origin is tracked back to Nara Period, which is about 1,300 years ago.
At that time, only noble people held viewing not cheery blossoms but plums.
After that many cheery blossoms were planted in their gardens.
Then noble people started event which they made poems (Tanka) and present their poems each other under the cherry blossoms. Very nice event!
It is said that the biggest cherry blossom viewing party was that held by Toyotomi Hideyoshi(豊臣秀吉), who is preeminent daimyo, warrior, general, samurai, and politician of the Sengoku period who is regarded as Japan's second "great unifier, in Kyoto on April 20, 1592. Almost one month later than now. Maybe because of global warming?
He invited about 1,300 guests and planted 700 cherry blossoms for this event!
He gave new clothes to female guests and requested them to change clothes twice in the event. It is said he spent about USD 35M for making new clothes to female guests.
He had lots of gold and was very generous to show his power to people in Japan.
These are paintings written after this big cherry blossom viewing.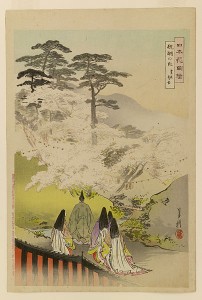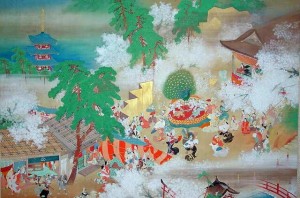 Now we just enjoy spending time with family, friends and coworkers.
If you have chance to join viewing, just having fun and do not forget to keep good manners!
How was this post about cherry blossom viewing?
If you like this or feel this is useful, please share on Facebook and retweet on Twitter!
If you wanna join Leo Sensei's group on Facebook, click Facebook mark on top or bottom and send friend request to me. You can get updated information and ask me freely about Japanese language and culture and so on.
(Japanese)
いま日本では、桜の季節で満開を迎えようとしている。
姉によると、東京ではまだ5分咲くらいだそうだ。
日本人は桜がとても好きで、桜が咲くとお花見をよくするよ。
花見
3月から4月にかけて、多くの日本人が桜の木の下で花見をする。
もちろん桜が満開の時期がベストだけど、満開の時期は短いので、休日にその時期が重なるのは難しい。
桜の木の下で、ゴザをしいて、食べ物や飲み物を持ち寄って、家族、友達や職場の同僚と飲み会をする。
桜はほんの1~2週間しか咲かず、すぐに散ってしまう。そのため、桜の花ははかない人間の人生によく例えられる。
花見では、参加者とお話をしたり、飲み食いをしたりするのだけど、この時期よくテレビのニュースで話題になるのは、泥酔した花見見物客や花見後に放置されたごみの話とか。見物客のみなさん、ルールとマナーは守りましょうね!
花見の起源と歴史
花見の起源にはいくつかの説があるようだ。
ある説によると、奈良時代に始まったというもの。
その当時は貴族たちが桜ではなく梅を観賞していたそうだ。
その後、桜の木が貴族の庭にも植えられるようになって、桜の木の下で歌合せを行う行事が行われだした。
史上最大の花見と言われるのが豊臣秀吉により1598年4月20日に京都の醍醐寺でお紺われたものだそうだ。いまより約1ヶ月遅い。これは温暖化のせいかな?
豊臣秀吉はこのイベントに1,300人の客を招待し、700本の桜を植えたそうだ!
彼は女性の招待客には服を新調して与え、イベント中に2回着替えるようにしたそうだ。その服代だけでいまのお金に換算して約39億円かけたというからすごい!大変な金持ちだったし、権力を日本中の人に誇示したかったのだろうね。
現在では、純粋に友達たちと楽しむために花見をしている。
もし花見をする機会があったら、是非参加してみてね!でもマナーは忘れないようにね!!