I know one of the things that many foreign tourists want to do in Japan is to take the 新幹線(Shinkansen)
I often used to take Shinkansen, known as bullet train, when I lived in Japan.
In this column, I wanna write about Shinkansen including information about Japan Rail Pass.
新幹線(Shinkansen)
I know one of the things that many foreign tourists want to do in Japan is to take the Shinkansen, which was launched in 1964 as the world's first high-speed train at that time. Shinkansen's top speed is at around 300km / hour. As for speed, TGV in Europe is faster than Shinkansen now because Shinkansen's route includes many tunnels and curves.
The strong point of Shinkansen is many frequencies, keeping on time and safety. Shinkansen leaves Tokyo station every five minutes and arrived at destination almost on time. They say delay time on average per day is only 6 seconds. Amazing, right?
In addition, there has been no big accident related with Shinkansen so far.
Routes
Now 8 routes are in operation and 2 routes are under construction as bellow. You can go from Tokyo to anywhere you like. Even to Hokkaido and Kyushu island (my home!). Travel by train is slower than by air plane. But you can see Japanese scene from your window. The fare is cheaper than air ticket. I often took Tohoku line and Tokaido line on business trip.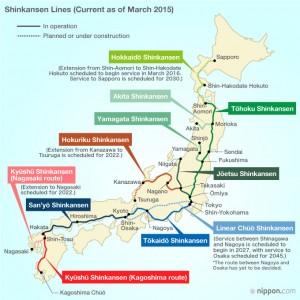 Name
Now 8 routes are in operation and each train in each line has its own name. For example, in Tokaido line, there are 3 kinds of train name, Nozomi(のぞみ, hope in English), Hikari (ひかり, light)and Kodama (こだま, echo ). Nozomi is express one and Hikaru and Kodama are local ones.
There are many other names in other lines. These names have one same feature although some exception. Each name consists of 3 hiragana characters. Hayate (はやて, strong wind ), Komachi (こまち, beautiful girl), Sakura (さくら, cherry blossom), Tsubame (つばめ, swallow) and so on. These are named from words related with local taste that line takes and its speed. Very interesting, right? Before opening new line, Railway Company(Japan Railway Company) announces the public offering about its train name. So you can name train if you want!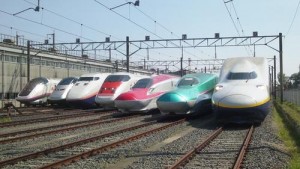 JAPAN Rail Pass
Japan Rail Pass is round trip ticket offered by Japan Rail Companies.
If you have this, you can go almost everywhere without limitation of times within certain period (ex. 7 days, 14 days) at reasonable price.
You may find the JR Rail Pass is worth it if you travel a long distance in a set time period. The other advantage is that since you won't need to buy train tickets every time you take train, you can make any random side trip when you want to. Japan Rail Pass vouchers can only be purchased out of Japan, from Japan Rail company-designated sales offices or travel agents. After arrival, travelers head to a major  station and show their passport and voucher to receive a pass. Japan Railways offer reasonable prices for the ticket. Before going to Japan, don't for get to check it! 
You may buy voucher online from below link.
This link is more information about Rail Pass.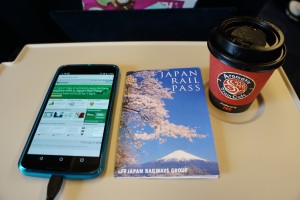 Linear Chuo Shinkansen
Please look back routes map above. Now one big project is on going. That is linear project from Tokyo to Nagoya. Linear train runs with electric and magnetic power. It's high technology under experiment. Linear train reached at 600km per hour in experimental run. This speed is almost two times faster than current Shinkansen. Not only high speed but no sounds are great points because train floats above rail with magnetic power. You can say flying train, maybe. It takes much time to verify its safety and make special rail for this train. This linear is planed to open in 2027.
Enjoy your ride when you will go to Japan!
Thank you for reading!!
If you like this or feel this is useful, please share on Facebook and retweet on Twitter!
If you wanna join Leo Sensei's group on Facebook, click Facebook mark on top or bottom and send friend request to me. You can get updated information and ask me freely about Japanese language and culture and so on.